Tam, kde nikdy nevypadne elektřina…
Nikdy neříkej nikdy! To je staré přísloví, které se v praxi snad milionkrát potvrdilo. P.R. manažeři od APC toho ovšem nedbali a jejich chvástání se jim (a nejen jim) nevyplatilo.
Co se vlastně stalo?

Na svých stránkách se APC v jedné své tiskové zprávě pustilo do věštění.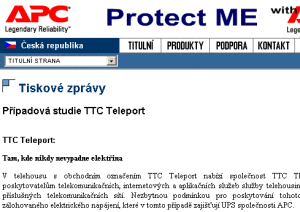 Inu, přání je otcem myšlenky, praví jiné moudro. Byla jen otázka času, kdy je za to Murphy ztrestá. A stalo se tak včera. Hostovinky.cz zveřejnili zprávu, že došlo k výpadku elektřiny v hostingovém centru TTC Teleport. Zpráva o výpadku elektřiny se po českém internetu rozšířila velice rychle, protože v TTC Teleport jsou mimo jiné umístěny servery Seznam.cz, servery obsluhující přenositelnost pevných telefonních čísel a několik stovek dalších.
Holt, chvástat se nevyplácí ;-) Myslím, že i v APC už to vědí…
Related Posts